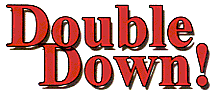 2X's the Value
The Expertise Of The

"The World's Largest
and Most Reputable Organization
of Expert Gaming Consultants"
Paired With
Jimmy Jordan
"Premiere Instructor to the
World's Top Professional Dealers"
Letter from the Leonard Benson Company:
Hello!
With a casino right in your neighborhood, it's tempting to give Lady Luck a whirl!
But wait!
Do you know how to play the casino games? If so, do you know the best ways to
increase your chances of winning?
Wouldn't it be a lot more fun if you could even out the odds?
LUCK has nothing or EVERYTHING to do with winning...it just depends on
how you spell it.
"Luck" is nothing more than wishful thinking or convenient coincidence.
On the other hand, "L.U.C.K." (Laboring Under Correct Knowledge) can remove
most of the risk from gambling.
With our fast-paced, easy to follow videos, you can make L.U.C.K. your casino
companion in less than an hour!
Each video is hosted by Jimmy Jordan, who has taught millions of people just like
you the ins-and-outs of casino gaming. More importantly, he instructs many of the
dealers currently working in casinos throughout the United States. Shouldn't you
know at least as much as they do?
Affordably priced and shipped right to your door, each video is packed with
how-to visual instructions as well as handy tips. You can choose either VHS
or DVD format.
Don't miss out on the fun and excitement of casino action that's so close to home.
Sincerely,
Leonard Benson