Round & Round the Ball Goes:
The spinning wheel, the blur of colors, even the sound of the ball dropping into the slot, are all part of the fun and fascination of Roulette.

You can get into the action of the whirling and bouncing white ball, too.

Just study the accompanying charts, and you'll discover that Roulette offers a variety of bets: Straight Up on one number, Combinations of numbers, Red or Black or Odd or Even.

You'll play with our* own distinctly colored chips that are good only at the table where they were issued, and the value of which is determined at the time of your buy-in.
*from Hole In The Wall Casino Hotel brochure entitled "How To Play Roulette."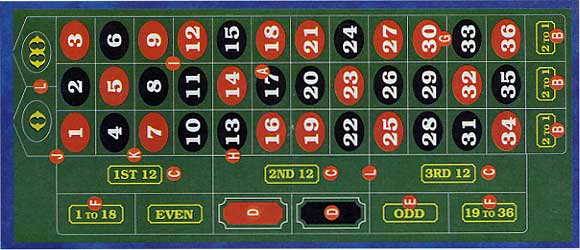 ROULETTE STRAIGHT BETS

A.
Straight up
All numbers, zero to 36

35-to-1

B.
Column Bet
Any of the 12 numbers in the column bet 2-to-1

2-to-1

C.
Dozen
1 thru 12, 13 thru 24 or 25 thru 36

2-to-1

D.
Red or Black
Color on the number corresponds to color bet

1-to-1

E.
Odd or Even
All odd numbers or all even numbers

1-to-1

F.
1-18 or 19-36
All numbers 1-18 or all numbers 19-36

1-to-1
ROULETTE COMBINATION BETS

G.
Split
Either of any two numbers split

17-to-1

H.
Row
Any of the 3 numbers in the row bet

11-to-1

I.
Corner
Any of the 4 numbers forming the corner

8-to-1

J.
Five Numbers
0, 00, 1, 2 or 3

6-to-1

K.
Six Numbers
Any of the 6 numbers in the two rows bet

5-to-1

L.
0 & 00 Split/
Courtesy Line
0, 00

17-to-1
PLAY
Each betting cycle begins with the Dealer spinning a small white ball in the opposite direction of the turning Roulette wheel. Bets may be placed until the Dealer announces, "No More Bets." When the ball comes to rest, the Dealer marks the winning number and only the winning bets are paid.
TO BET
The player must place the chip(s) where they would like to bet. The player has the sole responsibility of the correct placement, even when the bet is placed by the Dealer.